Packaging Palletizing Robots Market
Packaging Robots Market (By Application: Packing Robots, Palletizing Robots, and Picking Robots; By Gripper Type: Vacuum Gripper, Claw Gripper, Clamp Gripper, and Others; By End User: Food & Beverages, Consumer Products, Cosmetic & Personal Care, Pharmaceutical, Tracking, Logistics & Transport, Chemical Manufacturing, and Industrial Packaging; By Geography: North America, Europe, Asia-Pacific, and RoW) Global Scenario, Market Size, Outlook, Trend and Forecast, 2015-2024
Packaging Robots Market Overview :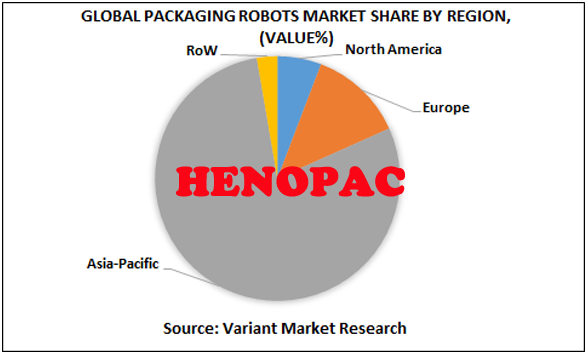 Global Packaging Robots Market is estimated to reach $5 billion by 2024; growing at a CAGR of 14.6% from 2016 to 2024. Packaging robot is an automatically controlled multipurpose machine used in diverse industries for improved and speedy delivery of products. These robots are used for primary and secondary packaging which comprises case packaging, tray packaging, and vertical filling, among others. It has various advantages such as no product damage and high accuracy. Growth in urbanization coupled with rise in disposable income has increased the adoption of packaging robot across various industries.
Growth in manufacturing industries, requirement for intelligent modernization to decrease product delivery time, and increased demand for high automation in packaging line are the major factors driving the global packaging robot market. However, high capital investment is a major challenge for market players. Various innovative features such as high accuracy and low product damage offered by packing robots would provide new business opportunities for the market in near future.
The global packaging robot market has been segmented on the basis of application, gripper type, and end user. By application, the market is segmented into packing robots, palletizing robots, and picking robots. The palletizing robot segment accounted for the largest market share in 2016, due to its huge demand in loading and unloading of goods. The picking robot segment is expected to grow at the fastest CAGR during the forecast period, owing to augmented demand of packaging robots in picking application such as FMCG industries.
By gripper type, the market is further divided into vacuum gripper, claw gripper, clamp gripper, and others. The vacuum gripper segment accounted for the largest market share in the overall gripper type segment in 2016, due to its huge demand for secondary packaging applications in various industries such as food and beverage, electronics, card board and film packaging, and others.
By end user, the market is bifurcated into food & beverages, consumer products, cosmetic & personal care, pharmaceutical, tracking, logistics & transport, chemical manufacturing, and industrial packaging. The industrial packaging segment dominated the end user segment accounting for more than one-third of the total market share in 2016, driven by increasing demand for industrial robots across chemical and electronic industries.
Based on geography, the global packaging robots market has been segmented into North America, Europe, Asia-Pacific and (RoW). The U.S., Mexico and Canada are covered under North America wherein Europe covers Germany, UK, France, Spain, Italy, and others. Asia-Pacific covers India, Thailand, South Korea, China Japan, and others. Rest of the World (RoW) covers South America, Middle East and Africa.
Major companies operating in the packaging robots market are Mitsubishi Electric Corporation, Bosch Packaging Technology, Fanuc Corporation, Kuka Roboter GmbH, ABB Limited, Schneider Electric SE., Yaskawa Electric Corporation, Schneider Electric SE , Yamaha Robotics, and Intelligent Actuator, among others.
The key takeaways from the report
? The report will provide detailed analysis of the Global Packaging Robots Market with respect to major segments such as application, gripper type, and end user
? The report will include the qualitative and quantitative analysis with market estimation over 2015-2024 and compound annual growth rate (CAGR) between 2016 and 2024
? Comprehensive analysis of market dynamics including factors and opportunities will be included in the report
? An exhaustive regional analysis of the Global Packaging Robots Market from 2015 to 2024 has been included in the report
? Profile of the key players in the Packaging Robots Market will be provided, which include key financials, product & services, new developments and business strategies.
Scope of Packaging Robots Market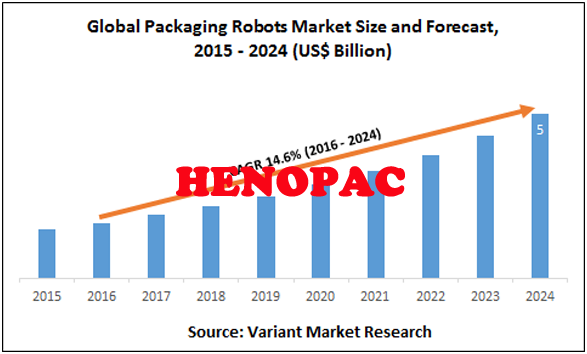 Application Segments
? Packing robots
o Tray
o Cases
o Others
o Picking robots
o Palletizing robots
? Case palletizing
? Bag palletizing
? D-palletizing
Gripper Type Segments
? Vacuum gripper
? Claw gripper
? Clamp gripper
? Others
End User Segments
? Clinical diagnostics
? Food & beverages
? Consumer products
? Cosmetic & personal care
? Pharmaceutical
? Tracking, logistics & transport
? Chemical manufacturing
? Industrial packaging
Geographical Segments
? North America
o US
o Canada
o Mexico
? Europe
o Germany
o France
o United Kingdom
o Spain
o Others
? Asia-Pacific
o China
o India
o Japan
o South Korea
o Others
? RoW
o South America
o Middle East
o Africa